WELCOME
Welcome to my site. I am author Kristin Kaldahl. Here you will find information on my books and blogs, my dogs (current and past), and a bit about my life. Be sure to check out the latest news and updates.
News AND UPDATES
IT'S HERE!!! – After years of writing, revising, editing, querying agents and editors, pre-publication design, marketing, and more, ASLAN: RUNNING JOY is officially out in the world!!
I am a jumble of emotions right now, and I'm trying to take this all in. Yet, there's so much work to be done that I'm struggling to slow down and live it. Every once in a while, a shiver breaks through the hustle, and it crawls up my spine and tingles across my scalp.
I'm a published author. The book is in the hands of the readers.
At this point, all I can do is hope you all enjoy Aslan's story.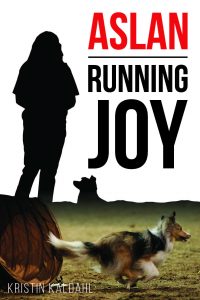 THANK YOU!! – A massive thank you to all that have made this possible. You can find the list on the Acknowledgements page in the book. What's missing on that page is my launch team, formed after the book's creation. Thank you to the dedicated members of my launch team. It takes a village to birth a book. It truly does.
AER YOU INTERESTED IN DOG AGILITY? – After reading the book, some readers may want to get involved in the incredible sport of dog agility. You can get started by visiting an agility trial near you and talking to the local competitors. They can tell you the best area agility trainers who then can get you started on your team's journey.
Remember, it's a game! Use positive training methods and make it fun for the dog.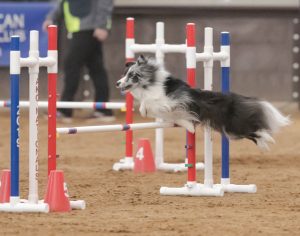 FACT OR FICTION – ASLAN: RUNNING JOY is an #ownvoices book, meaning I pulled from my experiences as a teen kidney transplant survivor and adult disabled agility handler and infused them throughout the book. Plus, I gave the personality of the "real" Aslan to the fictional Aslan in the book, and I tossed in some real family stories that are fictionalized to fit the book. So, while the whole book IS fiction, what parts are inspired by fact?
Go my blog section and read my FACT OR FICTION blog and find out for yourself.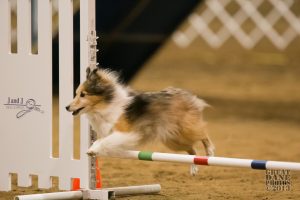 HOW CAN YOU HELP? – One of the questions authors get asked is, "What can I do to help?" Authors love this question. While some writers have Patreon pages for financial support, I'd like to go the free route. Here are two easy, cashless things you can do that will go a LONG way toward helping me get established as an author.
LEAVE A REVIEW – This one is huge. Really huge. Online booksellers like Amazon often look at the number of book reviews when determining what books to promote. PLEASE LEAVE A REVIEW. It only has to be a few sentences long. That's all. Below are a few websites where you can post your review.
SPREAD THE WORD – Yep. Plain-old word of mouth is still the number one method for getting readers. If you like the book, tell you friends. Post about it on social media. Ask your local library to carry it. Word of mouth is probably the best way for you to become a valued patron of the arts.
REVIEW SITES:
Amazon: amzn.com/163357329X
Barnes and Noble: https://www.barnesandnoble.com/w/aslan-kristin-kaldahl/1137785802
Goodreads: https://www.goodreads.com/book/show/55564143-aslan
EVENTS
Book signings
Signings are planned for 2022. Stay tuned!!
Podcasts
I had a fantastic time talking with host Kimberly Mckay on her "A Novel Thought" podcast. She had some intriguing questions, and the time just flew! You can it out here: https://podcasts.apple.com/us/podcast/author-and-agility-trainer-kristin-kaldahl/id1523202770?i=1000524286477
Host Cheryl Kaye on Pet Life Radio's "Unleashed" was a joy to visit with. Her humor and enthusiasm for animals is contagious. Listen here: https://www.audible.com/pd/Unleashed-Episode-43-Running-Joy-Podcast/B09BZVKK8S
Follow Kristin
You can be notified of my book's publishing progress, pre-order dates, launch dates, book signings, new works, and other information by following me on Facebook (click here),Twitter (click here), or signing up for my newsletter at the bottom of this page.
Blog
I write novels, but I also blog. My favorite blogging topics are dog agility, dog training, organ transplants, dog care, and more about dogs. You can find my blogs either on this website by clicking Blogor on HubPages(click here.)
What is kristin working on?
ASLAN: RUNNING JOY has been released so I am busy with all the exciting trapping of marketing a new book. It's hard, never-ending work but rewarding, too.
My second novel, THOUGH DEATH BE BEFORE (working title) should be out on submission right now. It's a far different genre than ASLAN: RUNNING JOY. I've gone from young adult contemporary to young adult fantasy, and yes, both books are about dogs. I'm excited about THOUGH DEATH BE BEFORE and look forward to seeing what publishers think.
While my second book is out on submission, I am writing a sequel to THOUGH DEATH BE BEFORE and playing with ideas for a sequel to RUNNING JOY. I love the writing stage where I bring characters, their world, and their stories to life on a blank computer screen. I can't wait to finish these books and put them in the hands of readers.
And as always, I am kicking around a few blog and short story ideas. You never know when a new blog will pop up on my HubPages account.