News and Archives
Kristin Signs with Literary Agent!!
KRISTIN SIGNS WITH LITERARY AGENT – Yesterday (Jan. 23rd, 2019) I signed with my new literary agent.! Stephanie Hansen, senior agent and owner of Metamorphosis Literary Agency, is now representing me. For those who are unfamiliar with publishing, agents are needed to send submissions into the bigger publishers, negotiate contracts, help build and mold careers, and much more. I am so excited to be working with the talented Stephanie and her team at Metamorphosis. Now, we'll polish my manuscript and begin the submissions process to editors and publishers. Check back here or subscribe to the newsletter below if you'd like to be updated with any news regarding the book. It would be incredible to see a traditionally published novel about dog agility. I think the time is right!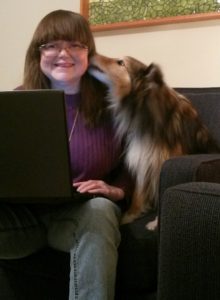 ASHER CELEBRATING ON AGENT SIGNING DAY
ocwi's creme de la creme award
What an honor I received at the November, 2018 Oklahoma City Writers, Inc. meeting at St. Luke's UMC. It was their annual contest awards ceremony, and I was stunned not only to receive First Place in short story for "A Dog's Life" (the first short I've written as an adult) and Second Place in Juvenile Book for my novel, but also, somehow, the Creme de la Creme award for "A Dog's Life." How did that happen? The Creme de la Creme award is given to the piece the judges determine is best in the contest. A huge thank you to the OCWI board and contest chairs who were so helpful and kind. What a great way to begin the Holiday season!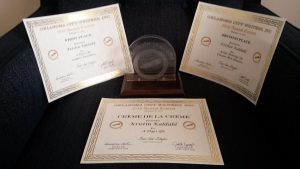 Aenon qualifies for AKC Nationals!
We're packing our bags! Aenon qualified for the 2019 AKC Agility National Championships at the WHAT trial in Hutchinson, KS. This is his third time to qualify for Nationals and my thirteenth. This year, Nationals will be back in Tulsa, Oklahoma–our home state. I am proud of my super talented service and agility dog. We'll see everyone at the party in Tulsa in March.
First Novel honored
My first novel has been selected as a semi-finalist in the ACFW 2018 Genesis Contest! I entered the contest for feedback and was shocked to have been chosen for such a great honor. I really was stunned because after sending in my entry, I decided a large chunk of it wasn't up to snuff and rewrote it. What an honor! 7/5/2018
Click here to read the semi-finalists.
Aenon Earns MACH!!
Aenon earned his Master Agility CHampion title (MACH) at the Oklahoma City Red Dirt Agility Club's Memorial Day trial on May 25th, 2018!! This is Aenon's first MACH and Kristin's eighth MACH/PACH. Aenon completed his 20th QQ for his MACH with a crunchy but clean Standard run. Video and more pictures of the exciting day can be found on the Photos/Viceos page. I am so PROUD of this fantastic dog. 6/1/2018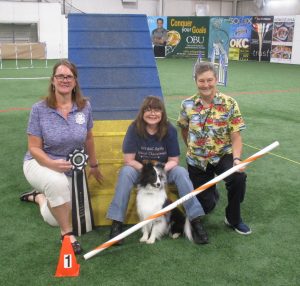 kristin's blog wins award
Kristin's "City Girl's Dream" has won 3rd Place in the Oklahoma Writers Federation, Inc., 2018 Writing Contest in the Blog category! You can find it under the "blogs" section of this website. Winners got a cool badge to put on their websites. 5/16/2018