LAUNCH DATE NEARS; AUDIOBOOK RELEASE DATE SET
May 2021
Things are gathering momentum as we near the launch date of ASLAN: RUNNING JOY. It's a dizzying process and terribly exciting.
The audiobook has been recorded and is receiving final edits at Tantor Media, which just set the release date for the audiobook. And, huzzah! It matches the release date of the paperback and ebook. June 1st, 2021 is the big day! Keep checking your favorite audiobook download site to see when it's up for preorder.
Tantor snagged the talented Brittany Stevenson of Guthrie, OK, as narrator for ASLAN. It's a full Oklahoma project! Brittany is perfect because as an Oklahoman, she can nail the Okie accent required in the book. I haven't heard it yet but can't wait for the chance. I know Brittany personally and know her reading voice. This will be great.
Aside from audiobook news, we are busy with social media giveaways, creation of free ASLAN swag, and scheduling upcoming events, which include podcast(s), interviews, blog tours, book signings, and more. Come back often to see if I will be popping up at an in-person location or virtual stop near you.
If you are interested in GIVEAWAYS and aren't following me on your favorite social media platform, consider doing so. I am most active on Facebook, Instagram, and Twitter. (click icons at bottom)
What am I giving away? All sorts of fun stuff including bookmarks, book plates, and book sleeves (protectors). Book sleeves are often sold for around $20 a piece. You slip your books into them and then throw them into your suitcase or purse. It eliminates bent covers, wrinkled pages, and scuffmarks on your personal book collection. (See photo)
AND, of course, I'm giving away BOOKS! Right now on LibraryThing, I have a book giveaway going. You can get a free advanced review copy of ASLAN: RUNNING JOY before it's even released!
And be sure to sign up for my newsletter for special giveaways just for subscribers. You can do that through the form at the bottom of the page.
I can't express how much everyone's support has meant to me. I am truly blessed to have such a strong fan-base this early in my career. Each purchase means more to me than I can express.
LET'S LAUNCH THIS THING!!
ASLAN: RUNNING JOY IS AVAILABLE FOR PRE-ORDER NOW
"Aslan: Running Joy" is now available for pre-order at most book outlets either on-line or through your favorite local book store! It will release on June 1st, 2021, but you can pre-order yours so it's sent to you the day it releases. RUNNING JOY can currently be ordered in paperback and e-book only, but an audiobook should also be available for pre-order closer to summer.
Thanks for your support! Please feel free to contact me with any of your questions about the book. It's always fantastic to hear from readers!
COVER REVEAL
Here it is!! The beautiful cover of my debut novel! A HUGE thank you to the talented folks at CrossLink Publishing for this cover that hits not only the trendy young adult red-and-black silhouette look but also the evergreen beauty of a classic cinematic photo. These two trends in one cover make me an awfully happy author. And, bonus! That's the REAL Aslan, too!!
AUDIOBOOK DEAL WITH TANTOR MEDIA SIGNED
MORE BIG BOOK NEWS!!! I signed an audiobook deal with Tantor Media, a division of Recorded Books, for the audiobook rights to ASLAN: RUNNING JOY, my first book!!! Those of you who listen to audiobooks may well recognize Tantor and Recorded Books. I am SO EXCITED!! This means that busy dog lovers who don't have time to sit and read a book can listen as they commute, walk dogs, clean, etc. As far as I know, the book (and hopefully audiobook) will come out next spring, 2021.
And I will be having a BOOK COVER REVEAL soon!! We are putting the finishing touches on the cover and WOW, am I thrilled with it!! I can't wait to show it to you all. Pre-orders for the print and e-book formats will be available when I reveal the cover.
With this incredible audiobook deal, ASLAN: RUNNING JOY will be available in paperback, e-book, audiobook, AND possibly hardback! A huge thanks to my literary agent Stephanie Hansen of Metamorphosis Literary and all the folks at Tantor!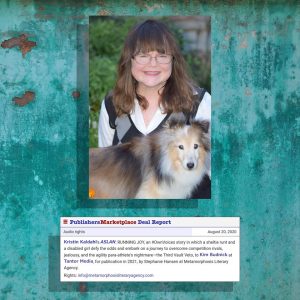 KRISTIN SIGNS BOOK DEAL WITH CROSSLINK PUBLISHING
News like this can't have too many exclamation marks!!! I signed a book contract with CrossLink Publishing for my debut novel, ASLAN: RUNNING JOY!!!! The book is tentatively scheduled to be released in spring or summer 2021. The deal was brokered by the unstoppable Stephanie Hansen of Metamorphosis Literary. CrossLink, a traditional publisher, has the most gorgeous paperback books I have seen in ages. The quality is amazing! I am thrilled to be working with them.
As almost all authors say, getting published was a childhood dream of mine. As a child, I wanted to write a novel in the vein of Albert Payson Terhune's LAD: A DOG but with modern sensibilities toward dogs, dog training methodologies, and humanity. My book is about a fourteen-year-old girl who, after becoming disabled by dialysis, fights to overcome her fears and reclaim her life with a sheltie runt in the fast-paced sport of dog agility. The book is for teens through adults, so it's a fun read for almost any age group.
I received the final contract for the book the same weekend I was competing at a dog agility trial with my current sheltie, Aenon. My supportive agility friends gathered mid-trial to cheer me as I signed the electronic contract. Here is the video of a kid's dream coming true.
Kristin Signs with Literary Agent!!
Yesterday (Jan. 23rd, 2019) I signed with my new literary agent.! Stephanie Hansen, senior agent and owner of Metamorphosis Literary Agency, is now representing me. For those who are unfamiliar with publishing, agents are needed to send submissions into the bigger publishers, negotiate contracts, help build and mold careers, and much more. I am so excited to be working with the talented Stephanie and her team at Metamorphosis. Now, we'll polish my manuscript and begin the submissions process to editors and publishers. Check back here or subscribe to the newsletter below if you'd like to be updated with any news regarding the book. It would be incredible to see a traditionally published novel about dog agility. I think the time is right!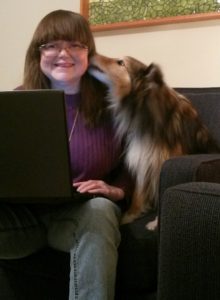 ASHER CELEBRATING ON AGENT SIGNING DAY
ocwi's creme de la creme award
What an honor I received at the November, 2018 Oklahoma City Writers, Inc. meeting at St. Luke's UMC. It was their annual contest awards ceremony, and I was stunned not only to receive First Place in short story for "A Dog's Life" (the first short I've written as an adult) and Second Place in Juvenile Book for my novel, but also, somehow, the Creme de la Creme award for "A Dog's Life." How did that happen? The Creme de la Creme award is given to the piece the judges determine is best in the contest. A huge thank you to the OCWI board and contest chairs who were so helpful and kind. What a great way to begin the Holiday season!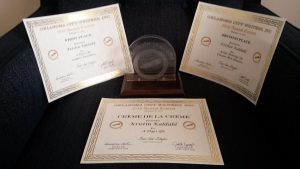 Aenon qualifies for AKC Nationals!
We're packing our bags! Aenon qualified for the 2019 AKC Agility National Championships at the WHAT trial in Hutchinson, KS. This is his third time to qualify for Nationals and my thirteenth. This year, Nationals will be back in Tulsa, Oklahoma–our home state. I am proud of my super talented service and agility dog. We'll see everyone at the party in Tulsa in March.
First Novel honored
My first novel has been selected as a semi-finalist in the ACFW 2018 Genesis Contest! I entered the contest for feedback and was shocked to have been chosen for such a great honor. I really was stunned because after sending in my entry, I decided a large chunk of it wasn't up to snuff and rewrote it. What an honor! 7/5/2018
Click here to read the semi-finalists.
Aenon Earns MACH!!
Aenon earned his Master Agility CHampion title (MACH) at the Oklahoma City Red Dirt Agility Club's Memorial Day trial on May 25th, 2018!! This is Aenon's first MACH and Kristin's eighth MACH/PACH. Aenon completed his 20th QQ for his MACH with a crunchy but clean Standard run. Video and more pictures of the exciting day can be found on the Photos/Viceos page. I am so PROUD of this fantastic dog. 6/1/2018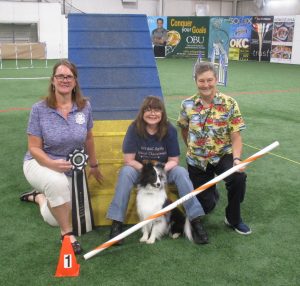 kristin's blog wins award
Kristin's "City Girl's Dream" has won 3rd Place in the Oklahoma Writers Federation, Inc., 2018 Writing Contest in the Blog category! You can find it under the "blogs" section of this website. Winners got a cool badge to put on their websites. 5/16/2018