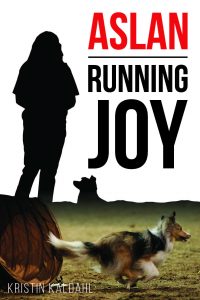 order now!
Or Visit Your Local Book Store!
ASLAN: RUNNING jOY
It's out! Kristin's debut novel can be ordered through the booksellers above or your favorite on-line site or local book store!
'The smallest creatures can make the largest impact…
"Running joy, healing hearts, and overcoming more than physical obstacles. . . . A touching tale of how the smallest creatures can make the largest impacts on the lives of their people." (Lori Michaels, multiple AKC/USA Agility World Team Member and international agility coach)
A Broken GirL… A Disappointing runt…
A Blazing Sport… A Dream…
First choices out. Second choices in.
It's been that way since dialysis left fourteen-year-old Krissy disabled. Her limitations went from none to a ton, and now they stand in the way of her dream—to compete in dog agility with her runty sheltie pup, Aslan.
Krissy has seen videos of agility handlers sprinting, spinning, and twisting as they race with their dogs through the intricate obstacle courses. It's a beautiful sport. Like dance. Like art.
And surely impossible for someone like her.
Her suspicions are confirmed when an agility instructor tells Krissy that her inability to run will keep Aslan from successfully competing against other lightning-fast agility teams. The instructor strongly suggests Krissy choose a less physically demanding, second-choice dog sport instead.
Second choices—once again.
And on top of all that, Krissy is pretty sure she doesn't even like her own dog.
Award-winning author and professional dog agility trainer Kristin Kaldahl weaves an authentic story of reclamation and simple love within the thrilling backdrop one of the world's fastest growing canine sports—agility. A book for both adults and teens, ASLAN: RUNNING JOY is a contemporary dog novel in the vein of the classics that keeps the modern reader's sensibilities in mind.
ASLAN: RUNNING JOY is for readers of almost all ages.
Almost.
The book contains a few grown up themes and was written for teens and adults. Younger readers (twelve and under) may need to wait a few years before enjoying Aslan's story.