MEET KRISTIN
WRITING ON THE BANKS OF THE DEEPFORK
I'm a born and bred Okie, and like most born and bred Okies, proud of it. Aside from a short stint as an Army brat, I spent my childhood in the suburbs of Oklahoma City. My college friends nicknamed me "The Beaver" because my home life mimicked the television show "Leave It to Beaver." My dad worked a full day as a pathologist while my mom stayed home, cleaning and cooking in high heels and dresses. Seriously. She still does. It was an idyllic life only marred by my kidney failure when I was thirteen.
It's a long, hard story, but after nine months of dialysis, I received my first kidney transplant in 1977. Thirty-one years later, my first transplant failed, and that very weekend, a perfect match donor kidney became available. My second kidney is rocking it. My life–my writing–is owed to God's grace and the courage of two families who agreed to donate their loved ones' organs during the most difficult of times. It amazes me. They thought of others in the midst of raw, overwhelming grief. If you have not, please talk to your family now and let them know, if the unthinkable happens, you would like your organs donated to save others.
A quick summary of the rest of my life goes something like this. I graduated from Putnam City High School in Oklahoma City and attended both St. John's College in Winfield, KS and then Oklahoma City University in Oklahoma City where I received a degree in Mass Communications graduating Summa Cum Laude and co-valedictorian. After college, I entered the workforce living in Independence, KS; Overland Park, KS; Westfield, MA; Girard, KS; and Prairie Village, KS before returning to Oklahoma City where I currently live on the same block on which I was raised.
Like the circle of life, I returned to roots after seeking adventure and fortune in the wide-world. I am happy to be back on the banks of the Deepfork river where I live with my dogs, surrounded by family and friends.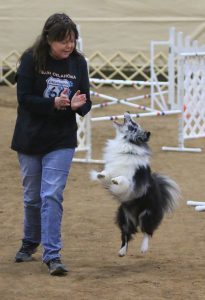 career
I love writing. My work experience shows that. I've been a hard-news reporter, assistant editor, columnist, church planter, office manager, novelist, dog trainer, and blogger. I'm still a dog trainer and own City Dogs Agility School in Oklahoma City, OK where I coach dog/human agility teams. Working as an agility trainer has been more enriching than I'd expected. Dogs and their people are ever-moving targets. Combine that with the rich and deep sport of agility, and I will never be able to learn all there is to know about agility, dogs, and the people who love them both. That constant challenge motivates me to immerse myself in the sport, writing about my thoughts and observations along the way.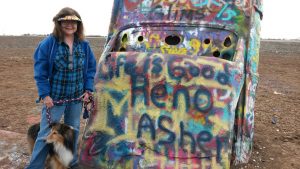 writing
I love dogs. A lot. I love to play with them, train them, care for them, compete with them, and just watch them. I love writing, too. So it was only natural when the two loves merged into one.
I started writing as a little girl. I wasn't very good, but I was determined. Inspired by stories about horses and dogs from authors such as Walter Farley, Albert Payson Terhune, Marguerite Henry, and others, my earliest works rotated around horses and dogs, especially a red collie named Flame. My love of animal stories has never dimmed, and to this day, I read works about animals written for any age. It's not surprising then that my first novel is a dog story as well.
I am as yet unable to talk about my first novel other than to say it's about dogs. Yes, that's Vaguebooking, but there's a good reason why I have to be secretive for now. I can talk about my blogs. You can find my blogs split between this website (click here) and my profile on Hubpages(click here).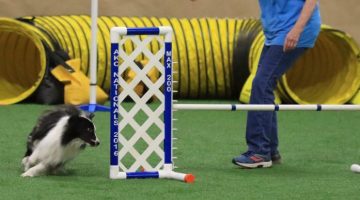 dog training
At fourteen-years-old, I got my first dog–a collie named Ruffis. I wanted to compete in conformation with him, but unfortunately, his nose grew the wrong way, slipping down instead of pointing straight. Instead, we began a journey into competitive obedience, and my world has never been the same.
As an adult, I returned to training with a frightened, rescued American Eskimo named Laika. In spite of her global fear, she fought to earn a title in dog agility and a Canine Good Citizen title. She happily retired after those titles, but I wanted more. I went on to train my first sheltie, Aslan, in agility. The word is way overused, but Aslan really was awesome. His joy pulled me wholeheartedly into the sport, and I have never looked back. In total, I have competed in dog sports with five dogs earning seven agility championships, over 170 titles, thousands of ribbons, tens of thousands of memories, and friends uncounted. My dogs have taken me places in real life that I read and dreamed about in my beloved, fictional childhood dog books. It's beautiful when dreams come true.
I continue to compete in agility with my current teammate and service dog Aenon. Like each of my dogs, he teaches me new lessons every day as we work to sharpen our skills and, like iron sharpens iron, each other. With each weekend of competition, Aenon and I follow in the footsteps of Aslan, Asher, Jericho, Laika, and Ruffis as we conquer obstacles and seek adventure. I have a lifetime of experience gathered from living with these patient, loving dogs and fodder for a small library of books. What a blessing to be able to write–through fiction–these furry characters into life again.